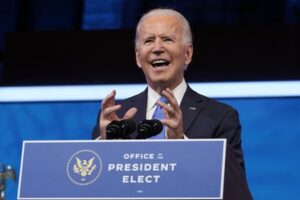 Well the waiting and validating is over, Joe Biden is your new President of the United States. To his credit and to the determent of outgoing President, Donald Trump, President Elect Biden stayed cool and calm under the  verbal attacks and complaints of "voter fraud and vote rigging" by the  outgoing President and the scores of lawsuits filed Trump and members of the Republican Party.
The Electoral College has validated the votes cast in all fifty states and have confirmed the results of election night and the few weeks beyond.
To the majority the belief is that the republic is still strong and has survived the  onslaught of of bogus claims of the outgoing President.
Congratulations to the President Elect and blessing to America.