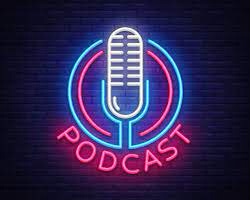 For years since we started Podcasting, we've heard many Podcasters say,"If we could get more recognition, Podcasting would be bigger and we all would benefit from it".
The Groovisphere has been skeptical of that. As a matter of fact, our belief has been, "be careful of what you wish for".
I remember hearing bout Podcasting as an alternative to Radio and Podcasting was a medium to, "stick it to the man".
Their position is/was that Podcasters use this medium to develop and produce their own content, and not needing Radio.
Point well taken. The good thing is anyone can start a Podcast. The bad thing is anyone can start a Podcast.
As Steve Jobs of Apple added Podcasting to Apple first on iTunes, and now Apple Podcasts, referred to it as the, "Amateur Hour". And he was right. When I first Podcasts, they were abysmal. Bad audio quality, three to four folks talking into Blue "Snowball" condenser microphone 3-6 feet away,and meandering thru topics that were only interesting to them.
I'll say this from my Radio bias. It was terrible! It was Radio guys like Leo Laporte, a  Radio and New Media guy who upped the production values. Along with Adam "The Podfather" Curry, a former Radio and MTV VJ and really invented Podcasting, along with Programmer Dave Weiner, laid down the source code to what is Podcasting today.
That is not to say there aren't other good Podcasts since it's beginnings. It's improved.
There was once a time when all of the original Podcasters actually knew each other! The debate was once, "Should Podcasting be  a hobby or a business"? There was passion on both sides over the issue which was never resolved. Ah, those were the days.
There were many points of inflexion in the growth of the medium. Podcasting began from then Audioblogging in 2004. In the Summer of 2005 Apple adds what's known now as Podcasting to their iTunes platform. Companies like Libsyn, and later Blubrry began hosting services for MP3 files and RSS feeds for Podcasters in 2004, and 2005 respectively.
Podcasting would continue it's growing pains in fits and spurts where in 2014 the Podcast Serial, an investigative journalist show which many believe put Podcasting on the map due to it's impressive download numbers. That's a debatable point still today.
The number of Podcasts have exploded pushing the number of shows being created   are over  a million or possibly more at the time of the publishing of this blog post.
What was once considered a joke by the mainstream media was being recognized. TV shows about the subject were highlighted including a show by Comedian and Podcaster, Marc Maron's  show called "Maron" on IFC. The show was about Podcaster, Marc Maron.
Startup Podcast Networks formed from Gimlet, Wondery, and National Public Radio promoted their shows via Podcasting. Advertisers are spending ad dollars on Podcasts and are getting results too.
Then it happened: Other media companies entered the space. Spotify, a music streaming service invited podcasters to add their shows on their platform. iHeart Radio, formerly Clear Channel, a Radio group invited Podcasters to do the same.
Sounds like a good deal right? Well not exactly.
Podcasters who were so glad to sign up (with the encouragement of Libsyn and Blubrry) both podcast hosting services, soon discovered that they(Spotify) could run advertising on their shows with no compensation. Also at other Podcast companies eployees would submit show ideas to the Podcast networks they worked for and when those companies decided to drop Podcasting and pivot to another business model they were left without a show. They didn't own the Intellectual Property, Trademark, or RSS feed of the show. The RSS feed is what makes a Podcast.
Satellite radio company, Sirius-XM has also joined the fray with the purchase of music streaming  service Pandora. They have also purchased Simplecast, a distributer for Podcasts and Sticher, a Podcatcher, which operates similarly to Apple's iTunes that hosts Podcasts.
iHeart radio has partnered with Charlemagne tha' God of their Radio property, "The Breakfast Club" to form the "Black Podcast Network" with Charlemagne owing 50% stake in the company.
We're sure that deal benefits those entities and less for the Independent Podcaster.
As these deals and partnerships continue in the Podcasting space we'll keep a watchful eye and report.
Independent Podcasters keep your eye on the prize and always have a good lawyer if approached for a deal that seems too good to be true.
As a postscript, Amazon has added Podcasting to it's platform too! Ah haa…